The New Business of Paradigms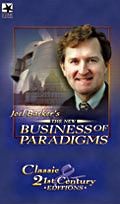 This presentation can be customized in many ways. The key concepts are:
The definition of a paradigm.
The paradigm curve and how to map your organization onto the curve.
The role of the outsider in changing your paradigm and how to turn them into assets.
How to be a paradigm pioneer and its advantages.
The paradigm effect and how it keeps you from seeing your own future.
Going back to zero-how to know when it's happening and why you want to do it to your competitors.
(From 45 minutes to 3 hours depending on client requirements.)