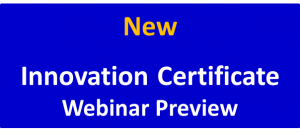 On Wednesday, June 19, Joel Barker previewed the new Certificate in Innovation Program, a structured training program offered in-house for managers and leaders at all levels in organizations.
Based on Joel's "Innovation at the Verge," "Tactics of Innovation," plus the classic foundation of "The New Business of Paradigms," this highly experiential training program delivers real innovation results to participants.
Contact us for additional information.